Bulletproof Radio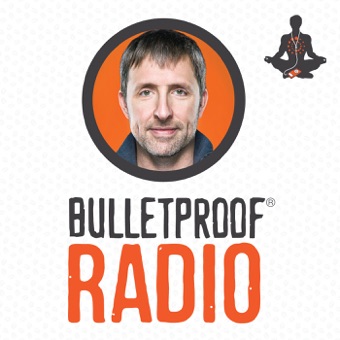 By: Dave Asprey
Description:
Bulletproof Executive Radio was born out of a fifteen-year single-minded crusade to upgrade the human being using every available technology. It distills the knowledge of world-class MDs, biochemists, Olympic nutritionists, meditation experts, and more than $250,000 spent on personal self-experiments. From private brain EEG facilities hidden in a Canadian forest to remote monasteries in Tibet, from Silicon Valley to the Andes, high tech entrepreneur Dave Asprey used hacking techniques and tried everything himself, obsessively focused on discovering: What are the simplest things you can do to be better at everything? Welcome to being Bulletproof, the State of High Performance where you take control and improve your biochemistry, your body, and your mind so they work in unison, helping you execute at levels far beyond what you'd expect, without burning out, getting sick, or just acting like a stressed-out a-hole. It used to take a lifetime to radically rewire the human body and mind this way. Technology has changed the rules. Follow along as Dave Asprey and guests provide you with everything you need to upgrade your mind, body, and life.
Hot Episode Picks
Subir Chowdhury, one of the world's leading management thinkers and consultants, a prolific author, and the CEO of ASI Consulting Group, joins Dave to discuss his latest book, "The Difference". From the lessons learned when you fail, to the meaning and power of Subir's "STAR" principles, to why attitude is everything, Dave finds out how Subir saves his clients billions of dollars with his process improvement methodologies. You won't want to miss this incredible conversation with the best-selling author of "The Power of Six Sigma" and "The Ice Cream Maker", who shares some amazing stories with Dave!
John Gray, author of the best-selling, most well-known relationship book ever, "Men Are from Mars, Women Are from Venus", sits down with Dave LIVE to discuss the down-and-dirty differences between men and women, and how it's all about the hormones. His Mars/Venus book series has forever changed the way men and women view their relationships, and in his new book, "Beyond Mars and Venus", he shares some brilliant new insights and ideas. And what about sex? Don't worry…Dave and John cover that, too!