The Tony Robbins Podcast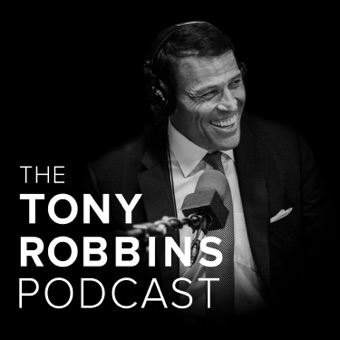 By: Tony Bobbins
Description:
"Why live an ordinary life, when you can live an extraordinary one?" Tony Robbins, the #1 Life and Business Strategist, has helped over 50 million people from 100 countries create real and lasting change in their lives. In this podcast, he shares proven strategies and tactics so you, too, can achieve massive results in your business, relationships, health and finances. In addition to excerpts from his signature events and other exclusive, never-before-released audio content, Tony and his team also conduct deeply insightful interviews with the most prominent masterminds and experts on the global stage.
Hot Episode Picks
What does real wealth mean to you? Is it having your dream home? Buying an expensive car? Is it when you're rich enough to have your own private plane? If you ask Armando Christian Perez - who you most likely know as the musician, Pitbull - wealth has absolutely nothing to do with money - it has only to do with happiness. In this episode, Tony sits down with Pitbull to talk about his journey to achieving success. Because today, Pitbull is on top of the world. He is a world-renowned musician, performer, business entrepreneur, fashion icon and actor whose career sales have exceeded 5 million albums and over 60 million singles worldwide. He's had #1 hits in more than 15 countries, his videos have over 5 billion views, and his social reach matches audiences of some television networks around the world. But none of this came easily. Tony and Pitbull discuss the power of failure and why our biggest setbacks can be our biggest gifts. They delve into what it means to cut the noise out of your life and focus on what matters. And they share their belief that if you want real wealth in your life, you have to cultivate joy, surround yourself with people that make you better, and always find a way to give back.     This podcast is produced by Robbins Research International  Do you want to improve your personal life? Visit here.
Did you know that the average American checks email within 6 seconds of arriving at work? Or that 75% of adults say they spend the entire day within an arm's reach of their phones? Whether we want to admit it or not, the smartphone has become a critical extension of our lives. And it's easy to understand why. Smartphone technology allows us a number of communication options including voice calls, text messages, video chat and instant messenger. We have immediate access to the information and are constantly connected to the web. And with the advancement of mobile technology, we can do our banking, shop online, check movie times, check our heart rates, edit photos, publish blog posts - anytime, anywhere. But what is this convenience really costing us? In this episode of the Tony Robbins Podcast, we're talking with renowned social psychologist, Adam Alter. Adam is an Associate Professor of Marketing at New York University's Stern School of Business. He is also the New York Times bestselling author of two books: Irresistible, which considers why so many people today are addicted to so many behaviors, from incessant smart phone use and internet use to video game playing and online shopping. And Drunk Tank Pink, which investigates how hidden forces in the world around us shape our thoughts, feelings and behaviors. Adam has also written for the New York Times, New Yorker, Washington Post, Atlantic, WIRED, Slate, Huffington Post, and Popular Science, among other publications. He has shared his ideas on NPR's Fresh Air, at the Cannes Lions Festival of Creativity, and with dozens of companies, including Google, Microsoft, Anheuser Busch, Prudential, and Fidelity, and with several design and ad agencies around the world. His academic research focuses on judgment and decision-making and social psychology, with a particular interest in the sometimes surprising effects of subtle cues in the environment on human cognition and behavior. His research has been published widely in academic journals, and featured in dozens of TV, radio and print outlets around the world. Adam and Ana delve into the many ways our smartphones have become obsessive addictions. They look at how technology is precluding us from having a balanced life, and the serious implications this has on our social interactions with others and our capacity for compassion, empathy and connection. They discuss the role businesses play in perpetuating addictive behaviors by using strategic tactics when it comes to user experience. And they talk about what it would mean to withdraw and detox from screen experiences so that we can learn how to create a new sense of well-being in our lives. This episode is all about becoming more aware. Because the more informed we are about the addictive nature of technology and even of business practices that keep us coming back for more, the more able we are to demand more - from ourselves, from others, and from the companies that we support.