VIEWS with David Dobrik and Jason Nash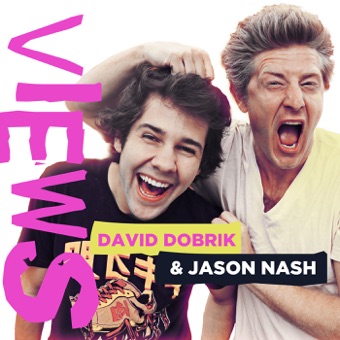 By: DGital Media
Description:
In this weekly podcast, David Dobrik, a 20-year-old, sexy, millionaire YouTuber and Jason Nash, a 40-something single dad with a vlog of his own, take you behind-the-scenes of their vlogs and show you what living the "YouTube life" is really like. Join these two as they confess their most intimate thoughts, discuss pop-culture, and dissect their own contentious relationship. New episodes drop every Thursday!
Hot Episode Picks
On this week's show... David and Jason talk about times they have walked in on their parents having sex, one of David's first jobs as a waiter in a nursing home and how when an friend's older relative passes away it become open season for jokes. Plus, David explains Willy Wonka to Jason. Welcome to VIEWS
On this week's show... Things get intense! David thinks he's going to get kicked out of the country (Jason disagrees), Jason asks David if they're actually friends, before diving into what constitutes a friendship, and the guys talk about David's upcoming 21st birthday party in Vegas. Also, Jason weighs in on whether or not heaven is real, and goes off on David over his answer to a "would you rather" scenario regarding the death penalty. Welcome to VIEWS.