The Adventure Zone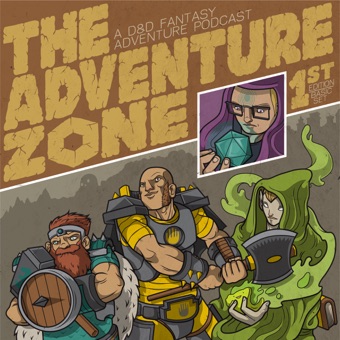 By: The McElroys
Description:
Justin, Travis and Griffin McElroy from My Brother, My Brother and Me have recruited their dad Clint for a campaign of high adventure. Join the McElroys as they find their fortune and slay an unconscionable number of ... you know, kobolds or whatever in ... The Adventure Zone.
Hot Episode Picks
Our heroes' first job is not going especially well. Taako, Merle and Magnus are hot on the trail of their employer's kidnappers, leading them into a perilous gerblin den. Will they discover the fate of Gundren and his ward, Barry Bluejeans? Or will they find themselves held up by complicated gerblin office politics?
In this, the pilot episode of The Adventure Zone, the McElroys create the characters with which they'll build a new -- and hopefuly very, very lucrative -- fantasy fiction franchise. Join in the campaign as Justin (Taako), Travis (Magnus) and Clint (Merle), led by Dungeon Master Griffin, take their first steps into the unknown.